Sometimes, it will just happen that things work like they should. I had a nice example this morning, and it shows how Recoll can be useful for maintaining code, so here goes.
The new Recoll 1.19.2 has a few minor interface issues, so I decided to create a PPA to maintain 1.18 packages for users who'd rather stay with the old version. The latest 1.18 code had not be compiled on Launchpad for some time, and:
The Lucid build failed:
gcc -pthread -fno-strict-aliasing -DNDEBUG -g -fwrapv -O2 -Wall -Wstrict-prototypes -Wall -g -O2 -fPIC -DMAJOR_VERSION=1 ...
cc1plus: warning: command line option "-Wstrict-prototypes" is valid for Ada/C/ObjC but not for C++
pyrecoll.cpp: In function 'void initrecoll()':
pyrecoll.cpp:1864: error: 'PyCapsule_New' was not declared in this scope
error: command 'gcc' failed with exit status 1
So I decided to see if Recoll was good for something. Here follows the search track, nothing removed. This is performed on my main index, with all my documents and email, so I was quite lucky to get so few spurious results. Still, it goes to show that things sometimes work…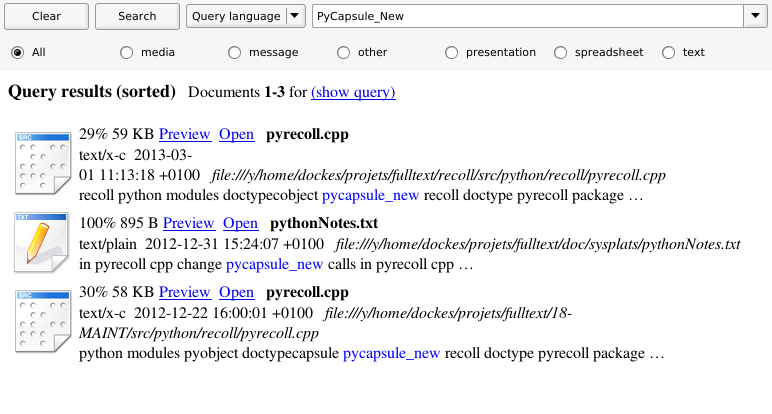 Nailed it ! 1.19 has a change to adapt to older Python versions, which did not made it into the 1.18 maintenance branch.
Almost there. Where else could this be an issue ?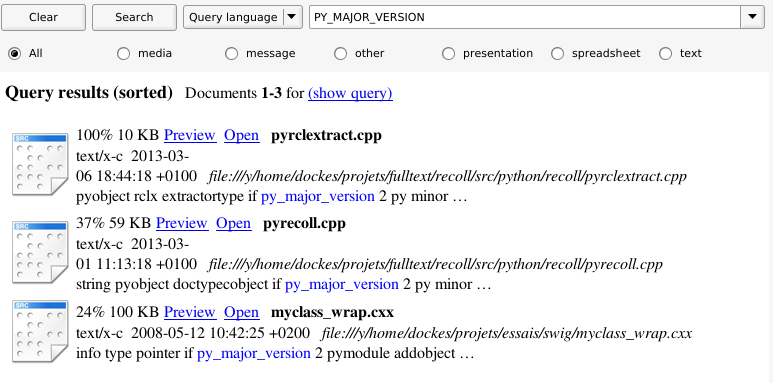 And we're done ! The first result is the second file which was modified to account for the older Python version.
I could have found this with the command line, grepping away looking at code in both source trees, but, really, this is much easier, Recoll did all the typing for me :)